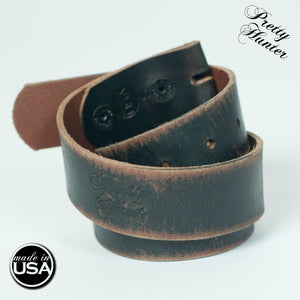 Distressed Black Leather Belt
Our premium leather belts are hand cut from full grain aniline dyed hides with a light oil and wax top.
The finish is matte with raw edges to go with our unique belt buckles.
Our belts are hand-cut to 1 1/2 inches wide right here in the USA.
All belts are SNAP belts.
However they are made to be ROCKED OUT with one of our fabulous Bodacious Bullet Buckles!