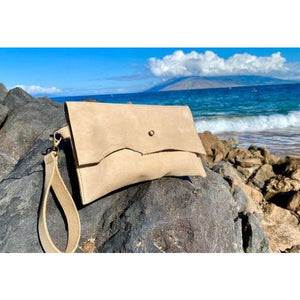 Handmade Custom small clutch
*We are in love with our live edge clutches, which use the natural edges of the hide. This means that the leather is carefully scrutinized before choosing exactly where the pattern will be cut out, giving each clutch an entirely bespoke, one-of-a-kind vibe. *Finished with a brass D-loop, which allows the user to add one of our leather wrist straps to create a wristlet, or without as a stand alone clutch. Measures: 9" x 5"
*Handmade our bags are made out of salvaged leather from a boot factory that makes many of the military boots.
 *A portion of this bag supports our partners at Boot Campaign. Boot Campaign's Mission is to unite Americans to honor and restore the lives of veterans and military families through individualized, life-improving programs.   
*These items are made from repurposed materials and will have slight varieties from the photo 
*Made in United States of America