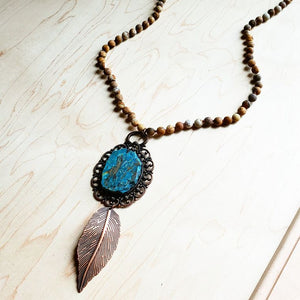 Picture Jasper Necklace with Ocean Agate Chunk on Copper Medallion 228v
  Picture Jasper Necklace with Ocean Agate Chunk on Copper Medallion
Great Boho addition to your wardrobe featuring natural stones.
Pair this necklace with the matching bracelet to complete the look
Necklace is 30" in length 
Copper Medallion is approx. 2x3"
Genuine Ocean Agate in the center
Although your item will resemble the photo,
each piece is created by hand, so no two are identical.

Thank you for visiting The Jewelry Junkie!